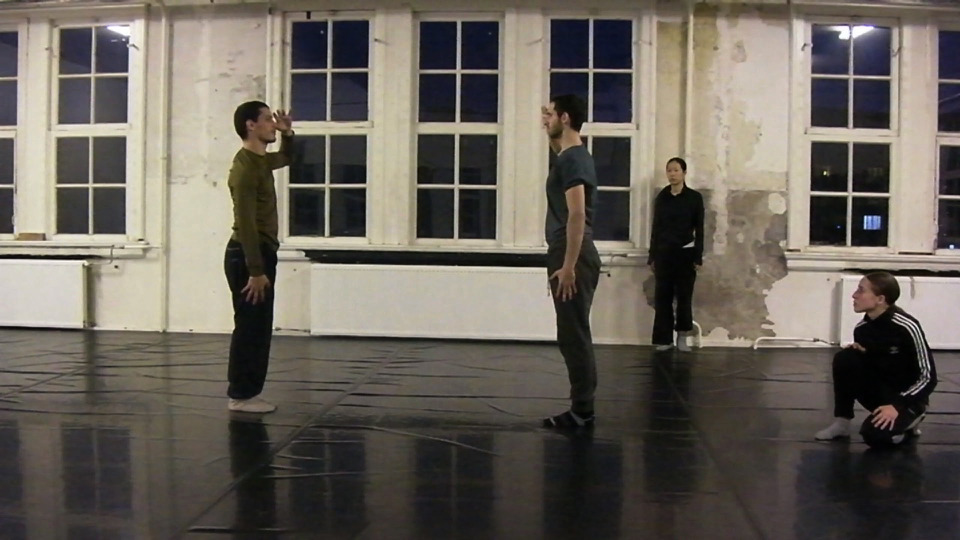 Sharing of the research: Thursday 27 feb. @ 6:30 pm
Makom 
by Idan Sharabi & Dancers
Choreography & Soundtrack: Idan Sharabi
Music: Byetone, Joni Mitchell, F. Chopin, Interviews by Sharabi.
Dancers: Rachel Patrice Fallon, Dor Mamalia, Ema Yuasa & Idan Sharabi.
For the past three years I have been exploring the concept of home in my choreographic work.
This word has always had deep emotional connotations for me. Recently, I was curious to find out more about other people's views, so I started interviewing some friends of mine. The interview began with the questions: What is home for you?  Where are you from? Where do you live? Do you feel at home now? All interviews interpreted home as different things, creating opportunities to discuss broad concepts such as origin, identity, society, body and more. It became clear to me that people perceived themselves as the reflection of their homes; their language, family, occupation, possession, injuries, love, etc. Eventually, when starting my creation process with Dor, Ema and Rachel, I felt the need to find a new home for all four of us.
"Makom" in Hebrew means a place.
We started by looking for a common place and we ended up here, today.
a little preview of their research work in CLOUD:
Idan Sharabi & Dancers was founded by Sharabi in fall 2012.
In Aug. 10′, Sharabi created "Home", which was the first step in getting the group together. Two years later, he created "Joni Solos Series" which was immediately invited by ilDance to tour Sweden. Then the group was invited to perform a full evening "3Works", in Suzanne Dellal Center, Tel aviv, in April 13′. The following August the group was invited to perform it again in The Macholohet Summer Dance Festival 13′. Following these shows, they were invited by The Danish Dance Theater to perform "Adar" in The Copenhagen Summer Dance Festival, Denmark. The next fall Sharabi & Dancers were supported by The Israel Festival and Israel Ministry of Culture to premier "Nishbar" as a part of Curtain Up in Suzanne Dellal, Tel Aviv and right after were chosen to participate in The International Exposure Festival 13′.
Idan Sharabi was born in Israel, 1984. He graduated Thelma Yellin and The Juilliard School before he danced in Netherlands Dans Theater and Batsheva Dance Company. He was chosen to create for NDT Upcoming Choreographers 10′ and has won The Zeraspe Award 06′, Copenhagen International Choreography Competition 12′, and The Mahol Shalem International Competition 13′. Between 2011-13 he created for "TheProject" of The Israeli Opera House, KCDC, The Israel Ballet, Ballet Junior de Geneve, NND, ZDT, and EBBC. Last season, Sharabi was chosen to be one of the 9 promising young artists of Israel by American Express and founded his group 'Idan Sharabi & Dancers' in Sep. 12′.
Idan Sharabi has been supported by American Express TYP Project, The Ministry of Culture, The Israel Festival, Suzanne Dellal, Bikurey Ha-Itim, The AICF, The Israeli Opera House, The Juilliard School Donors and a donor of The Dance Library of Israel Organization
Dor Mamlia was born in Israel, 1985.
Dor is the 2013 Israeli Minister of Culture Prize winner for 'Best Cast Performance', and the winner of ZOA scholarship for young artists in 2006. He started his training in The KCDC Workshop Institute, before joining KCDC. After he joined Fresko Dance Company and 'TheProject' of The Israeli Opera House. There he danced pieces by William Forsythe , Jacopo Godani, Emanuel Gat and Idan Sharabi. Then he joined Vertigo Dance Company and freelanced with Sharabi. A year later, he joined 'Idan Sharabi & Dancers', and ever since he has been performing with the group and teaching Sharabi Workshops in Europe. Dor has also worked with Barak Marshel, Saar Magal ,Karl Schreiner and Keren Rosenberg.
Ema Yuasa was born in Japan, 1983.
Ema started dancing in Ikemoto Ballet School, in Hiroshima, before she entered The 'Académie de Danse Classique – Princesse Grace', in Monaco. Upon her graduation, she joined Dresden Ballet and later joined Ballet de l'Opéra de Nice. After she joined Nederlands Dans Theater where she met Sharabi. In 10′, She joined 'Idan Sharabi & Dancers', dancing 'Home' in Suzanne Dellal Center, Tel aviv, Israel.
Rachel P. Fallon was born in the U.S, 1990. Post graduation from the Lines Ballet Training Program, she went on to dance for companies such as Tiny Pistol, Sidra Bell Dance New York and Zhukov Dance Theater. She is currently freelancing with Loni Landon Dance Projects, Bryan Arias and Idan Sharabi and Dancers.
We'd like to thank The CLOUD Den Haag, Tami Weiss, and Mary Louise Albert for granting us the opportunity and making this possible.