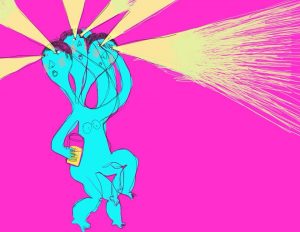 10 – 23 October 2016
Presentation | by invitation
Movement Labs | contact: ludic.collective@gmail.com
Ludic Collective would like to present their focus and meditate on how their interests convert into movement/choreographic processes:
1. How can you dance/choreograph without being a dancer/choreographer – in terms of studies.
2. How can you dance without having to copy movements from someone else.
Every dancer is their own choreographer.  Not using one's individuality is a limitation.
"Two minds are better than one; we don't believe in hierarchy and fixed roles in performance making. We are very interested in skill-swapping and strong collaboration throughout the creation and development of a project – it is not only the choreographers that work with dancers, it is also the musician, scenographer, producer that can act as choreographers."
During this residency we will be working on two subjects:
Inverted Planet- an immersive performance : we want to explore how our physicalities and psychologies respond to extreme speculative changes – gravitational/geological/biological… –  in our surroundings.
Our focus lies in the diverse nature of people: their culture/ backgrounds,  memories, ways of seeing, moving, speaking etc. Whatever form we undertake, we find contents from the participants and collaborators. 
Perception as Movement Generator: we are interested in exploring how our perception about external stimuli/objects can be physicalised, and therefore work as movement generator.
When doing the exercises rather than starting from nothing, Ludic wishes to introduce a formula, which will help the performers to construct a working process method that will almost work like a machine. 
---
Ludic Manipesto
We are  serious. We are very serious about not being serious.
We are Ludic.
We make many attempts
Attempts to do what?
Attempts to create, make and explore
Explore what?
Maybe art, maybe food, maybe just some time with some people.
We make
non-theatrical theatre
non-dramatic drama
non-literary literature
non-musical music
and non-performative performances.
But we are not, not necessarily, using these opposite views as our motivation.
 We are not ideally post-anything.
We just want what we want.
We evolve around nice food, good people and excitement.
We tend to add subtle elements and details to our performances just as much as we tend to add oregano and paprika in our dishes.
 We really like the small things. The big things are for adults. We are not there yet, nor will we ever get there.
We respect unintentional process and its consequences.
These manifesto can be easily contradicted by any of us.
---
Visit: www.ludiccollective.com