After the inspiring classes of Marta Reig Torres, we invited a new teacher to get your bodies and minds bent and stretched in ways you didn't know you could do.
On 3 and 10 April, 10:30-12:00, Jack Gallagher (Bodies Anonymous) will come to CLOUD to teach his Vigorous Risk Technique class, which he is teaching all over Europe with great success.
Jack gives a rigorous upright class which challenges the body with a series of exercises based on expanding a body's interaction with space and bringing artistry to the surface. The emphasis is on effective effort, dynamic versatility and calculated risk. The class combines different mental and physical efforts simultaneously, releasing one into the other, creating reciprocal flows of cause and effect.
The normal duality in dance between what is considered 'formal' or 'theatrical' dissolves into more contemporary issues: energy management, articulation, bio-feedback and making use of personal experience: The intelligence of our embodied cognition.
Vigorous Risk is a principled class, structured with an open view on the inter-dependency between the mental and the physical realms: brains, languages, signals become interactive with trunks, legs and heads.
By using questions like: "What goes where?" and "What effects what?" – a very different artistic experience is generated in contrast to and yet complimentary with 'form based' techniques.
By rigorously training the use of three primary efforts- directing, sourcing and sequencing, an artistic transparency arrives in the training.
By processing these efforts, the dancer learns what (s)he uses and is using, what (s)he has learned and is learning, releasing in the process her/his embodied cognition.
—————-
CLOUD TECHNIQUE CLASSES
Thursdays mornings
From 10:30 – 12:00
€7,- per class
3 & 10 April with Jack Gallagher
Open for dance lovers who have some movement experience.
—————-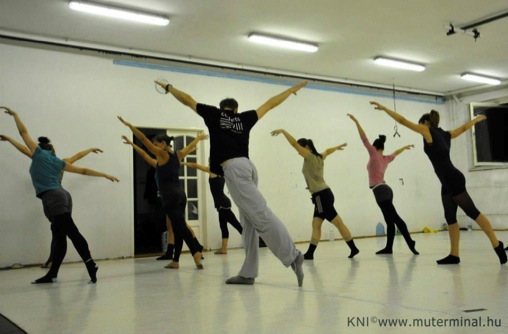 Bio:
Jack Gallagher studied dance in New York at the Alvin Ailey American Dance Center. In New York he began his career in 1990 w with Nikolais Dance Theater (USA). While in N.Y., he danced with Tere O'Connor and ISO Dance while studying and performing with with Zvi Gottheiner. Since moving to the Netherlands in 1995, Jack has performed with Krisztina de Chatel (NL), Amanda Miller (Germany) and been a long time member of the Anouk van Dijk dance company (NL). Gallagher is currently performing in the international sensation 'Trust' by Falk Richter and Anouk van Dijk. Since 2009, 'Trust' has become part of the repertoire playing regularly in Berlin and been invited to Festival d'Otono in Madrid, Festival TransAmeriques, Montreal, Avignon Festival, Perth International Arts Festival, Australia.
In 2002, Mr. Gallagher formed an ad hoc interdisciplinary dance company under the name Bodies Anonymous. Under the motto of Pure Dance/ Non-Fiction, he formulates new principles for dance and performances for the theatre and on location. Bodies Anonymous has been supported by National and Local Dutch Art Funding bodies per project, has appeared in The Hague's CaDance Festival in 1999, 2004, and 2010 and performs regularly in Amsterdam. Since its humble beginnings, Bodies Anonymous has toured to Germany, Belgium, Russia, Turkey, Australia and Israel.
Jack is a dance researcher and former fellow at Danslab in The Hague, and was an guest artist at International Choreographic Arts Center Amsterdam investigating the both the Performative Speech Act Theory and the Actor Network Theory in dance performance. Jack is a founding organizer of The Network For Choreography & Related Art, an advocacy group for Free Lance Performance based Choreographers.
Jack gives lectures in a variety of settings and events where dance and body, leadership and wellness intersect.