Fransien van der Putt – CLOUD walk & talk – kijken naar beweging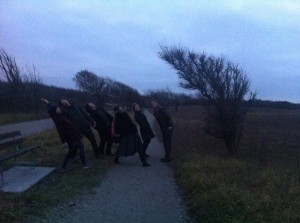 De eerst komende CLOUD walk&talks in 2014 zullen plaatsvinden in april, mei en juni. Data worden doorgegeven aan wie belangstelling heeft. Neem contact op met CLOUD via 061477920 of schrijf je in door een bericht te sturen aan cloud.danslab@gmail.com. De wandelingen beginnen in de studio van CLOUD en duren van 14:30 tot 18:30.
Thema's vooralsnog: Dichtbij en veraf, perspectief, uitzicht of immersie? Luisteren en kijken, horen en zien. Kruispunten, momenten van wrijving, plekken van frictie en slijtage in de stedelijke omgeving.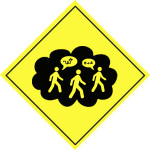 Hieronder verslag van eerdere wandelingen en materiaal ter inspiratie:
Een mooi artikel over "walking and talking" door Erik Bryngelsson in opdracht van SARMA n.a.v. de derde walk+talk reeks, een project van choreograaf Philipp Gehmacher, dat deze keer plaats vond in Stockholm, in december 2013. Het artikel heeft een motto uit Les Mots et les Choses van Michel Foucault: "It is in vain that we say what we see; what we see never resides in what we say."

***
Thanks to Vera Sofia da Mota, here is a trailer of one of my favorite writers Brain Massumi, talking about walking, uploaded by another favorite writer, Adrian Heathfield :)
***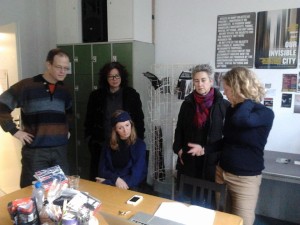 Op zondag 15 december ging een flinke groep mensen mee met CLOUD walk&talk #2. Na een korte, te korte inleiding,  gingen we lopend door de buurt naar de tram en met de tram naar het Zuidstrand.
In de inleiding legde ik uit hoezeer ik door de werking van zee en land ben gefascineerd. In feite is de kust in Nederland in voortdurende beweging, golven, wind en stroming brengen zand of slaan het weg. Duinen verplaatsen zich, zelf als de overheid met man en macht probeert de duinen in stand te houden.
Het strand is niet alleen een plek vol beweging voor de elementen, maar ook een plek waar mensen en dieren naartoe komen om zich te amuseren, uit te rusten en bij te komen. Zee en wind, de glofslag het doet iets met je lichaam. Dit levert een bijzondere choreografie op.
Het stand is eigenlijk een enorm podium, een grenzeloos gebied, een plek zonder richtingaanwijzingen of piketpaaltjes. Iedereen en alles wandelt en speeelt er door elkaar heen. Het levert prachtige choreografie op.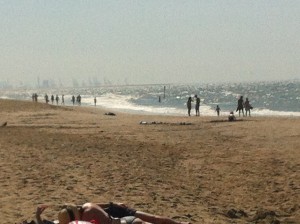 Een inspiratiebron voor CLOUD walk&talk is de film "All this can Happen" van choreograaf Shioban Davies en documentaire maker David Hinton. Met gevonden beelden en het verhaal "Der Spaziergang", de wandeling, uit 1917 van Robert Walser.
Als je wandelt wordt je onderdeel van de wereld waar je naar kijkt. Je perspectief wisselt voortdurend, de verhoudingen verschuiven. Het is niet meer een algemeen perspectief zoals je dat vaak in het theater of op televisie krijgt voorgeschoteld.
Dat is ook precies de bedoeling van de wandelingen. Kijken hoe beweging is georganiseerd in de wereld om ons heen en wat dat met ons en de wereld doet. Patronen, sporen, botsingen, constructies, rafelranden, kruispunten, spitstroken en stiltegebieden.
Ik liet ook Trio A zien, van Yvonne Rainer. Als een voorbeeld van choreografie die de tand des tijds doorstaat. Geen idee nog wat dat dan precies is.
[youtube aggv4jybdaY]
***
Op zondag 1 december 2013 vond de eerste CLOUD walk&talk plaats. Op een of andere manier was iedereen ziek, zwak of misselijk. Maar toch hadden Eline van Ark, Mike Rijnierse en ik een goede tijd in de installatie van Ludmila Rodrigues.
—–
Fransien van der Putt is dramaturg, docent bij ArtEZ School of Dance en verbonden aan het Cultureel Persbureau. Voor het project "CLOUD nodigt uit" doet zij vijf wandelingen in Den Haag, met vrienden van vrienden en kennissen van kennissen uit Den Haag. Hagenezen en Hagenaars, immigranten en expats, kunstenaars en politici, ambtenaren en kleine ondernemers, iedereen wordt uitgenodigd de anderen te gidsen door een landschap dat gevormd wordt door beweging. Hoe kijken we, hoe stellen we ons op, waar luisteren we naar en wat negeren we? Hoe doen anderen dat en welke rol speelt beweging daar in? Museum-bezoek en dans-voorstellingen zijn niet bij voorbaat uitgesloten, maar de prioriteit ligt bij de het doorkruisen van meer publieke en meer private ruimte.