Eline van Ark & Mojra Vogelnik Skerlj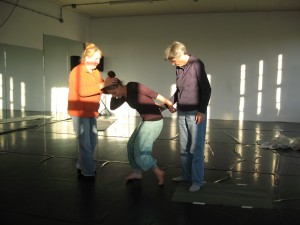 https://cccompass.wordpress.com/
Eline van Ark is danseres en choreograaf. Zij gaat met een kleine groep blinden in ca. 10 sessies het hoorbare gedeelte van dans exploreren. De blinden treden op als luister-expert, maar kunnen ook als beweger de vloer op. Dans niet alleen als kijk-kunst, maar ook als een ervaring voor alle zintuigen, waarbij het oor een grote rol krijgt toebedeeld.
In het project 'De Onzichtbare Danser' gaat Eline van Ark op zoek naar hoorbare dans. Met haar danseres Mojra Vogelnik Skerlj en een groepje blinden en slechtzienden uit Den Haag slaat ze aan het luisteren. Wat hoor je als je je ogen dicht doet en naar dansbewegingen luistert? Veelal voeten die stampen, schuiven, slepen en tasten, maar ook adem en soms zelfs het ruisen van kleding of huid. Wat Eline wil weten is wat daar zo interessant aan is, of beter, hoe dat interessant kan wórden. Samen met haar blinde testpubliek komen ze tot verschillende opdrachten voor de onzichtbaar dansende Mojra: speel met ruimtelijke patronen, verbind alles met één ritme, richt je heel expliciet tot het publiek met je bewegingen, verander van intentie tijdens het dansen, en ga zo maar door. Al luisterend en uitproberend komen ze zo dichter bij interessant bewegingsmateriaal dat hopelijk straks allerlei fantasiebeelden zal oproepen bij het luisterpubliek.
Jan, een van de slechtziende deelnemers, snapt het al: "Je probeert niet met visuele beelden maar met je geluidsinput een emotioneel effect te bereiken bij je publiek."  Ook Emilie beaamt dat: "Dans is een vorm van communicatie, je communiceert met je bewegingen iets aan het publiek. Normaal gaat dat via beelden en vormen, maar nu via het geluid van die dansbewegingen." Maar Anita, die nog nooit iemand heeft zien dansen, gooit het over een andere boeg. Zij vindt het juist ook heel spannend om de danser aan te raken tijdens het dansen, en niet alleen te horen, dan kan ze zich er pas écht wat bij voorstellen. Een welkome afwisseling na al het geconcentreerde luisteren.