Saturdays from 11.15 to 12.45
Starts 17 November
Facebook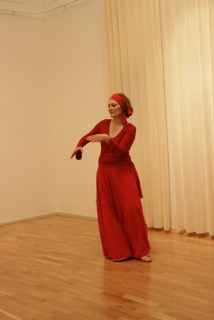 Hilal dance is the art-dance based on the creative, performative and educational work of avant-garde artist Suraya Hilal. This contemporary form of movement finds its roots in African and Middle eastern traditions furthering the recognition of the body as a holistic being.
Each session begins with a powerful breath-centered bodywork drawn from Eastern traditions to promote fluidity, strength and stability. We work on the natural flowing of energy in our body; from our roots through the legs, spine, torso and head in a series of connected and creative movements.
We will make use of classical and contemporary Middle Eastern music, integrated with other genres and at times live music.
All levels and genders welcome.
Trial class: 10 euro / students 8 euro
Drop in class: 15 euro / students 12 euro
10 lessons: 100 euro / students: 80 euro( valid 3 months)
(times and dates may change each semester, send us a mail)
Register with: lmdegaspari@gmail.com
Laura Maria De Gaspari is a dancer, dance teacher and choreographer with over 20 years experience and a yoga teacher in training. (Do in Academy, Leiden)