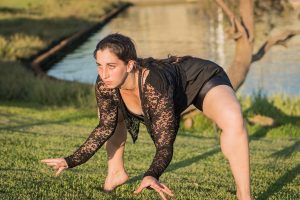 Creativity workshop – How do I tell a story?
22 – 26 August
Presentation | Saturday 27 August | Check Facebook page
Creativity workshop | Tuesday – Friday 13:00-15:00  €7 | Check Facebook page
What makes dance the unique form of art that it is and not just a series of movements? One thing more than anything else – telling a story.
When we create, how do we tell this story through our dance? How do we tell it without using words?
What character do I choose to be and how can a character help me tell my story? Or what happens when the character starts to tell a story of its own?
"Dreams I have Dreamt in the Studio" is a solo piece, that tells something using different characters, different emotions.
Learning some combintaions from the piece would be a place for us to start, and we will take it from there into trying different things that will help us find our creating characters, using movement, emotion, story and music.
We will spend our time together trying to find our own voice within the creation and our creativity.
About Tal Garmiza
Tal is an Israeli dancer currently based in Tel Aviv. She created and produced a project called "A Door to a Room" that brings dancers and musicians together. The project believes in taking the dance and the music into the world because everyone is entitled to it. Among other things, they created a show that explored the meaning of a place and how to create within it.
Today Tal is working on a solo piece called "Dreams I have Dreamt in the Studio" to the music of Roee Ben Binyamin and Itay Ashkenazy. The piece explores the connection between women, music and nature. She also works on and a short duet called "Desert".
Tal will take part and present her work in Residencies in Dance City, Newcastle, UK (Creative Summer) and in CLOUD in The Hague, NL, this coming summer.
Tal is also involved in building a new center for dancers at the Arab-Jewish community center in Jaffa.