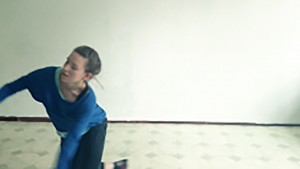 From tuesday 12 april we will be having a new evening class  from 19:00 till 20:00
Contemporary Dance by Christina Karagianni.
This class is based on the principles of release technique. This means, focusing on the breathing, skeletal alignment, muscle relaxation, joint articulation and the use of gravity to facilitate efficient movement.
Open to all levels.
Christina Karagianni (1987, Larisa, Greece) received her education as a professional dancer from the Greek National School of Dance (KSOT) and completed her MA in Theater studies at the University of Utrecht. She considers dance and choreography as an art form that can produce knowledge; therefore she is interested in the inquiry of the relationship between practice (praxis) and theory.
more info & contact & price: look at the classes page  for Contemporary Dance by Christina Karagianni