CLOUD is proud to present the edition  of 3X3Generations #3
on June 10th at 19:00.
Check Facebook event

Nine participants, three from each generation, from advanced amateurs to professional dancers are creating an open composition
This blind-date encounter start in the afternoon with a workshop.
LINE-UP: Manuela Tessi, Izabela Pacewicz, Fazle Shairmahomed, Tessa Veldhorst, Jozef Sloots, Herman Vriesendorp, Elena Iachininoto, Rachel de Wolff and special guest musician Arvind Ganga.
Doors open at 18:30 at DCR
Start at 19:00
Entrance fee € 5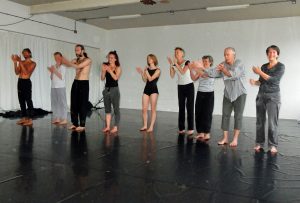 Many thanks to Dansdrift and CLOUD/Danslab
Powered by  CLOUD  Jérôme
Bewaren