" We meet each other on the verge of reality, somewhere on the street or at the end of the party. The different meetings are like resets, attempts to conncet with each other. Our bodies, so as our characters, relate in different ways. Each of these attempts takes a new form, a different expressivity. How do we experience an ambivalent look or an off-putting celebration of feathers and who are we for each other in this inconsistent reality? "
Keren will give open class at CLOUD/Danslab,
you are welcome to join!
For any question about it please contact her
benshachar.keren {at} gmail.com
Contemporary dance class
Tuesday 9 July 9:00-10:30
Thursday 11 July 9:00-10:30
Tuesday 16 July 9:00-10:30
Thursday 18 July 9:00-10:30
Presentation residency research
Saturday 19 July at 17:00
On February 2018 we, Keren and Eliott, started working on the Duet "And all that Pop" in Riksteatern Stockholm (SE). During the residency at CLOUD/Danslab we will keep developing our work.
We are interested in the coexistence of seriousness and humor as well as oddness and normality. We found that humor is a key to communicate and allow the audience to access our world. Playing with physical and theatrical intentions ('states') and shifting/ transforming between them we will be exploring different ways of communication. We will research the ambivalence that lies in communication using voice, body and intentions in contradictory ways. How a subtle smile or a distant look can change our reaction and the way the action will be perceived.
Twice a week, on Tuesday and Thursday between 9:00 – 11:30 we invite you to join our warm up! We will be sharing some ideas and exercises which we use for our research. We will explore the body as a medium of communication through use of voice, 'states', imagination and 'theatrical' elements. Using these elements, we will research the themes of humor, sense-making, absurdity and narrative.
About us
Keren Ben Shacharis a dancer, performer and maker living in the Netherlands.
She was born in Haifa, Israel (1992). She completed her studies at ArtEZ University of Arts, Arnhem (NL), BA Dancer/Maker (2018).
As a dancer/ performer, Keren worked with the maker Lorenzo Capodieci and performed the trio 'Dis-is', participated at the video dance 'Point of Change' by PRIME collective – Daniel Barkan & Enrico Meijer. She performed at different art installations by the Dutch visual artist Cindy Moorman and by Chataine Moekardanoein her work 'Stage Vivant'(NL).
Together with her colleague Johanna Tengan, they participated in PA.R.T.S summer residencies (BE), investigating physical methods to develop body/mind presence and awareness. She created the group piece 'MASScontemplation' together with her colleagueHellen Boyko for Kibbutzim College (IL). Together with the collective Sneezy Sneakers she created and performed the Trio 'Prelude' which performed at Hooge80 festival (NL) and Summer Stage PT (2017). She worked as a rehearsal assistant with Amos Ben-Tal for the creation 'The Appearance of things' at ArtEZ Academy (NL) and was invited by ArtEZ Master of Architecture to teach at the Proprioception Workshop, Tromsø(NO). Supported by the Israeli fund 'Mifal HaPais for Culture and Arts' she participated in two intensive workshops by David Zambranno (GR, PT).
As performer and choreographer Keren is interested to create different experiences that will both touch and challenge her audiences. She loves working with movement; visual images; physical theatre and she often uses the elements of irony, absurdity, human morals and emotions in her works.
Eliott Marmousetis a dancer, performer and maker, currently based in Stockholm (SE). He was born in Fontainebleau (FR) in 1994. He completed a Dancer/ Maker BA in ArtEZ Institute of the Arts in Arnhem (NL) in 2018. Prior to that, he graduated from a Product Design study at the ENSAAMA in Paris (FR) in 2014.
For the season 2019-2020 he will be working with Cullberg-Ballet in Stockholm (SE). With them he has had a year internship and a guest contract for the last two years where he worked with makers such as: Mathias Anderson, Eleanor Bauer in collaboration with rap artist «Yung lean », Ludvig Daae, Jefta Van Dinther, Deborah Hay, and Alma Soderberg.
Besides that Eliott has been working as a freelance dancer on a piece by Albert Quesada produced by «Mercat de les flores »during winter 2019 in Barcelona (ES).
As a maker he has collaborated with Hellen Boyko on «skype duet »a piece dealing with abstraction and «in between the form in between »a piece on aspirations dreams and all sorts of ambitions. Within the collective «sneezy sneakers »he has co-created «Prelude »a trio that explores the making of emotions, and proposes a hectic journey through them.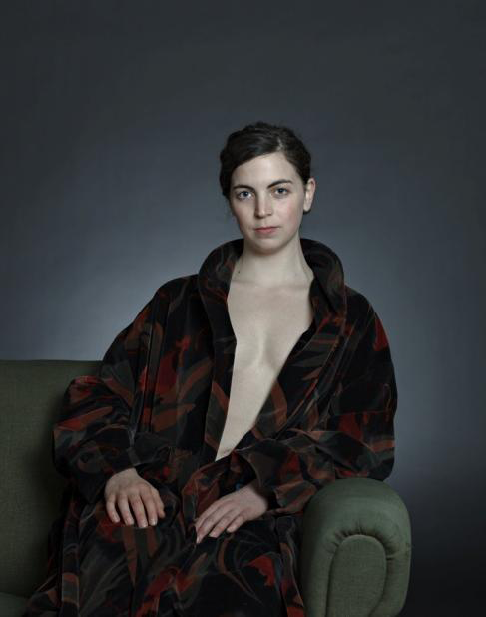 Photo : Eric Kellerman